BioPlus provides the best-in-class care your patients with MS deserve.  
Access to a growing number of approved specialty medications has transformed the treatment of multiple sclerosis (MS) in recent years. Early and ongoing access to effective treatment is a key factor in creating optimal outcomes for your patients with MS. As a center of excellence with best practices always top of mind, BioPlus Specialty Pharmacy (BioPlus) offers healthcare practitioners ongoing solutions for your practice and patients.
BioPlus is proud to announce that it now has access to the Limited Distribution Drug (LDD) Zeposia® (ozanimod) which is newly FDA approved for MS and manufactured by Bristol Myers Squibb. Zeposia joins BioPlus' robust portfolio of MS medications, and is a new oral treatment for adults with relapsing forms of MS. The FDA approval for Zeposia was based on research showing 48% fewer relapses in patients taking this oral medication, as compared to an injectable medication.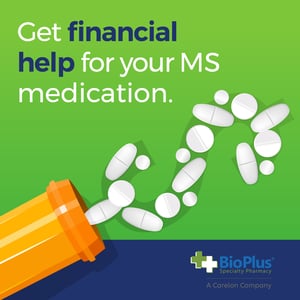 BioPlus is also in-network with another LDD called Mayzent® (siponimod), from Novartis. As with Zeposia, Mayzent offers patients with MS another option for oral treatment of MS. In this case, for active secondary progressive MS (SPMS). New long-term data finds that Mayzent treatment can reduce the risk of disability progression and cognitive decline in patients with SPMS.
"The BioPlus team is focused on helping provider offices and patients receive exceptional pharmacy care. We understand that your time is precious and we stand committed to make the process fast and easy," says Michael Tsales, Senior Director of Inside Sales at BioPlus. To that end, BioPlus ensures that patients start therapy quickly and easily, with the backing of the first-of-its-kind 2 hour, 2 day, 2 click promises. Our service model starts with the 2 Hour Patient Acceptance Guarantee™, which ensures notification to physician offices in less than two hours whether a referred patient is accepted for treatment or not. After that, prescriptions move though our 2 Day Ready 2 Ship™ process. Throughout every step of the process, our copay assistance team helps ensure that financial hardships don't stand in the way of patient treatment. And, it takes patients only 2 clicks to refill their qualifying prescriptions online.
If you are a healthcare provider who wants your patients to receive the highest level of patient satisfaction during their medication therapy, refer your patients to BioPlus. Download the MS referral form here.